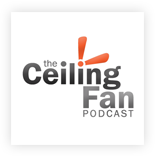 Just in time for Christmas, the popular fan podcast The Ceiling Fan has released their annual Christmas special.
If you haven't been following, we like to highlight the works of other Adventures in Odyssey fans out there, and The Ceiling Fan is no exception. With four complete seasons of the show, the show follows its formula for fun storytelling and quirky humor. The show follows legendary Adventures in Odyssey fan Ethan Daniels who, ironically enough, tries to create his very own Adventures in Odyssey podcast and proclaims himself to be the "biggest Odyssey fan". It's a podcast about a boy attempting to make a podcast, but there's so much more he gets himself into as his journey progresses.
If you've never heard the show, we recommend you begin with the very first episode and work your way through the series. It's hard not to fall in love with the show's unique flavor as you get more acquainted.
To listen to the Christmas Special, click here. Or visit The Ceiling Fan and get your journey started. Merry Christmas!
---