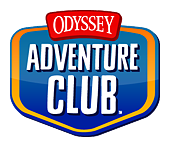 It seems to be a topic of discussion among fans in recent days. When does the Odyssey Adventure Club launch? How much does it cost to join? What will be included as a member? We've provided a majority of the details for the upcoming new opportunity from Focus on the Family, producers of Adventures in Odyssey:
The Odyssey Adventure Club will include:
1. The entire 726+ episodes of AIO streamed instantly to you on your computer or iOS device.
2. Additional episodes including: "Family Portraits" Officer Harley episodes, access to some of the "Dusty Episodes" (episodes never released for various reasons), Adventures in Odyssey video series, Last Chance Detectives audio series, Last Chance Detectives video series, and select Focus on the Family Radio Theatre titles.
3. Brand-new exclusive Adventures in Odyssey episodes of the month which also include bonus content: a real story video documentary about the episode, Web Quests (activities), comics, hands-on projects, learning the language, maps, history, games, and more.
4. A daily devotional to read every morning.
5. A monthly subscription to Adventures in Odyssey's Clubhouse magazine.
6. PopUpisodes: Adventures in Odyssey episodes featuring behind-the-scenes photos and trivia as the episode plays.
7. A community of fans to interact with inside the Odyssey Adventure Club. This is a great way for fans to connect.
8. Information about other ministries and organizations and how they're impacting the world.
How much does the Odyssey Adventure Club cost and how do accounts work?
At the moment, the plan is geared for families for a monthly subscription to the club for $15 a month. A credit card is required for signup, plus age verification (18+ can manage the subscription). Billing takes place at the beginning of the month. Each membership includes four additional user accounts that fans don't have to be 18 or older to use. This allows for members of a family to maintain their own account with their very own club experience. So in essence, families are able to share the membership with a parental account to manage all four.
Plus, a percentage of membership proceeds are given to world relief and ministry organizations on a monthly basis to build churches, dig wells, provide livestock, or pass out vaccinations.
Who can join?
The Odyssey Adventure Club will be available for everyone in the world to join. The goal is for families to subscribe and share the service together, hopefully at an affordable level.
When is the official launch of the Odyssey Adventure Club?
January 2014.
Stay Informed
You can sign up for official emails from the Odyssey team as news about the club becomes available. You can opt in for emails here.
Share Your Thoughts
Now that more details about the Odyssey Adventure Club are available, what are you most excited about? How do you feel about price and content? Will you be joining the club? Feel free to share your thoughts with us in the comments below!
---