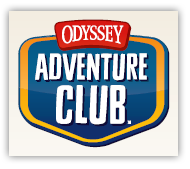 Adventures in Odyssey fans are in for a real treat in the coming days. A brand-new "Odyssey Adventure Club" will be a members-only club featuring exclusive AIO episodes, 24/7 online listening, and much more!
Official Summary:
All the fun and excitement of Adventures in Odyssey now comes together with real-world discipleship in an amazing new club. As a club member, you'll join Whit, Connie and the gang at Whit's End as they learn what it means to follow Jesus. You'll see how faith gets turned into action—from downtown Odyssey to remote places around the world.
Check this out: You'll have access to exclusive stories, a special website, discounts on lots of fun stuff and online streaming of ALL the Adventures in Odyssey episodes you want to hear 24/7! It's inspiration and discipleship on-the-go!
We'll keep you posted regarding pricing for this subscription-based service to be released later this year. Stay tuned in the coming days as more news unfolds about this exclusive fan benefit!
---