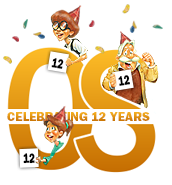 We never imagined 12 years ago that The Odyssey Scoop would still be up and kickin' to this day.
On December 22, 2000, The Odyssey Scoop emerged, with lots of changes and advances along the way. And now, we're thankful for the overwhelming support we've received throughout the years as we've become one of the longest running Adventures in Odyssey fan sites in existence.
Thanks to our friends at Focus on the Family for creating Adventures in Odyssey; otherwise, the Scoop wouldn't be here today.
Most of all, shout-outs to our visitors who so faithfully follow us from week to week! As we move into our teenage years, why not help support our mission and donate to keep The Odyssey Scoop going? Click here to learn how you can support us financially.
Of course, we want you to keep doing what you've been doing all these years as we seek to provide the Scoop on Adventures in Odyssey, one cone at a time. We've got more exciting things headed your way!
---