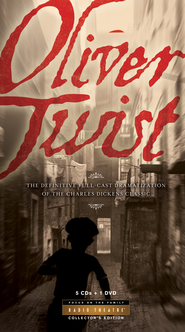 Great news for fans of Focus on the Family Radio Theatre! Their latest audio dramatization of "Oliver Twist" is now available for download from the Family Store (U.S. residents) as well as the Canada online store. If you've been eagerly awaiting this new release, now is the time to snatch up your copy.
Having already heard the drama, I can say that the Radio Theatre team went above and beyond to make this drama one of the best in the collection. Whether you purchase the download or hard copy (available later this fall), you'll get to experience nearly six hours of quality audio drama. Plus, you'll have access to a behind-the-scenes feature on the making of "Oliver Twist" (14 minutes) along with a special feature: "Modern Day Oliver" (35 minutes), and the promo for "Oliver Twist".
If you love Adventures in Odyssey, "Oliver Twist" and other Radio Theatre titles are sure to capture your imagination. To learn more about Focus's faithful adaptation of "Oliver Twist", visit the Radio Theatre website.
Oh, and expect to see this this drama available on iTunes very soon!
---