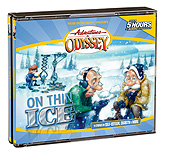 Adventures in Odyssey's repackaged album project moves forward with the re-release of a new cover design for Album 7: On Thin Ice.
Like many repacks released before, On Thin Ice still features the exact same episode selection, but has been revised visually to match the entire repacked collection. Bonus features in the original "Gold Audio Series" release will be carried forward to the new edition.
If you're collecting those Adventures in Odyssey repacks to have that consistent look fans have waited for years to see, expect Album 7 to make its way to online stores and Christian retail outlets soon. According to our Repack Schedule, the tentative release date has been long passed, so be watching for this release soon.
Visit our On Thin Ice product page to learn more about the album and see a higher-resolution image as well. Repacks onward!
---