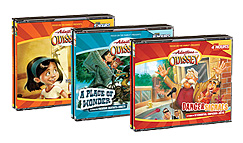 Since 2007, the Odyssey team has been working hard to bring a more consistent look to the Adventures in Odyssey audio series. For the first time in AIO's history, each album in the audio collection would look like it belonged with the others on listeners' shelves–instead of the somewhat scattered and detached album designs of years past.
And now, five years later, the repackaging project continues and draws nearer to a much-needed conclusion. At the moment, only ten more Adventures in Odyssey albums are currently unreleased as repacks. Recently released titles are making their way to local Christian bookstores and online retailers. Those include:
With only ten more releases scheduled, it might be a good time to begin collecting the series in its new look to get that consistent look fans have always wanted. To learn more about album repacks, you can visit our tentative Repack Schedule. Each repack generally keeps the same episodes as released in the past with an updated cover design and a behind-the-scenes color insert.
---